Cathedral Basilica of Saint Louis: A Masterpiece of Art and Architecture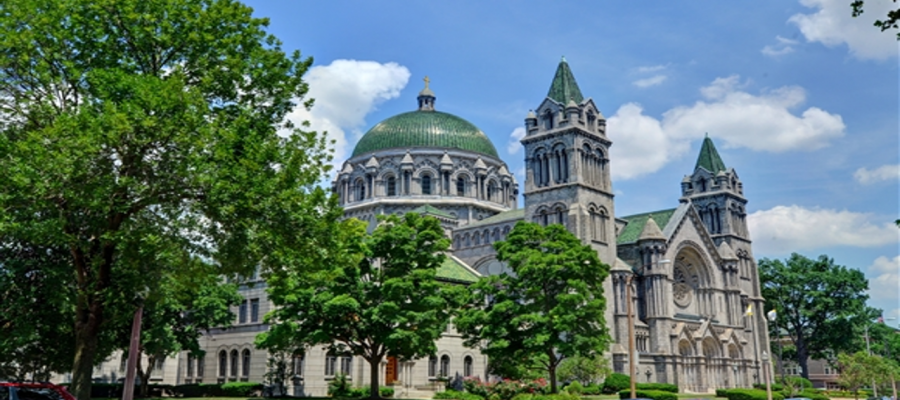 The Cathedral Basilica of Saint Louis, also known as the Saint Louis Cathedral or the New Cathedral, is a breathtaking architectural marvel that serves as both a spiritual sanctuary and a testament to the artistic prowess of its creators. Located in the Central West End neighborhood of St. Louis, Missouri, the cathedral is renowned for its stunning mosaics, intricate sculptures, and awe-inspiring architecture. 
This article will explore the history, art, and architectural features of the Cathedral Basilica of Saint Louis, revealing the unique experiences that make it a must-visit destination for art enthusiasts, history buffs, and spiritual seekers alike.
A Rich History
The Cathedral Basilica of Saint Louis was constructed between 1907 and 1914, designed by renowned architect Thomas P. Barnett. The cathedral was envisioned as a symbol of the burgeoning Catholic community in St. Louis, with Archbishop John J. Glennon leading the effort to bring this ambitious project to life. In 1917, the cathedral was consecrated by Archbishop Glennon and has since served as the Archdiocese's mother church of St. Louis.
Breathtaking Mosaics
The Cathedral Basilica of Saint Louis is home to one of the largest and most exquisite mosaic collections in the Western Hemisphere. Covering over 83,000 square feet of the cathedral's interior and featuring more than 41.5 million glass tesserae, these intricate mosaics depict biblical scenes, saints, and historical figures associated with the Catholic Church. The mosaics were designed by several artists, including August Oetken, Paul Heuduck, and Hildreth Meiere, and were installed over a period of 75 years. The mosaics' vibrant colors and intricate designs create a captivating visual experience that leaves visitors in awe.
Stunning Architecture and Artwork
The Cathedral Basilica of Saint Louis is a magnificent example of Byzantine and Romanesque Revival architecture. The cathedral's exterior features a striking granite facade with detailed sculptures and ornaments. The interior is characterized by soaring arches, marble columns, and elaborate chapels dedicated to various saints and patrons.
In addition to its breathtaking mosaics, the cathedral houses a remarkable collection of artwork, including intricate sculptures, stained glass windows, and ecclesiastical artifacts. Among the many artistic treasures in the cathedral is the bronze baldachin designed by American sculptor Harry Bertoia, which shelters the main altar.
Tours and Spiritual Offerings
The Cathedral Basilica of Saint Louis welcomes visitors to explore its exquisite art and architecture through guided tours and self-guided visits. Docent-led tours provide insights into the cathedral's history, mosaics, and architectural features, while self-guided visitors can appreciate its beauty at their own pace. The cathedral also serves as a spiritual sanctuary, offering daily Masses, confessions, and quiet reflection and prayer opportunities.
Conclusion
The Cathedral Basilica of Saint Louis is a true masterpiece of art and architecture, offering visitors a unique and enriching experience. With its magnificent mosaics, stunning architecture, and rich history, the cathedral is a must-visit destination for anyone seeking to explore St. Louis, Missouri's artistic and spiritual treasures. Whether you're drawn to the cathedral's breathtaking beauty or seeking solace and reflection, the Cathedral Basilica of Saint Louis welcomes you to discover its many wonders.