The City Museum: St. Louis' Whimsical Wonderland of Creativity and Adventure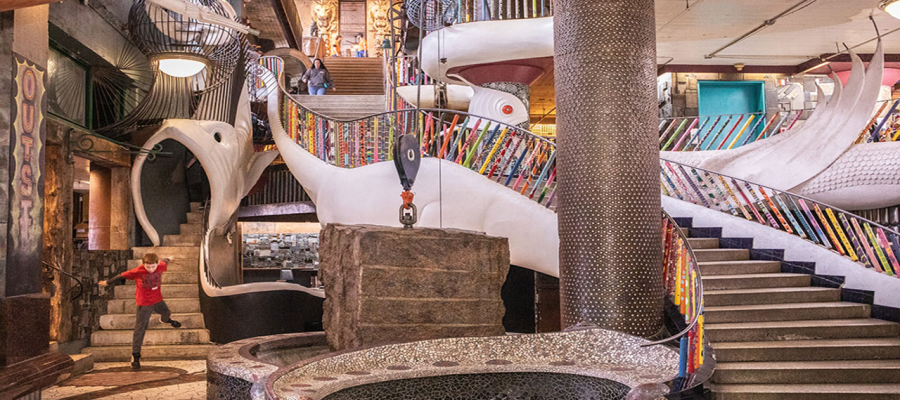 Nestled in the heart of St. Louis, Missouri, lies the City Museum, an extraordinary urban playground that sparks children's and adults' imagination and curiosity. Housed within a 600,000-square-foot former shoe factory, this one-of-a-kind attraction features an eclectic mix of repurposed architectural and industrial objects, interactive exhibits, and artistically designed spaces. In this article, we delve into the magic and wonder of the City Museum, highlighting its most popular attractions and the artistic vision behind this unique St. Louis destination.
The Vision and Concept
The City Museum was founded in 1997 by artist and sculptor Bob Cassilly, who envisioned a space where visitors could explore, create, and interact with art and architecture in a hands-on, immersive environment. Together with a team of talented artisans and builders, Cassilly transformed the former International Shoe Company building into a sprawling, multi-level wonderland where the ordinary becomes extraordinary. The museum's ever-evolving array of installations and exhibits are largely constructed from reclaimed materials, such as old chimneys, salvaged bridges, and even a retired school bus, fostering a sense of wonder and creative exploration.
Highlights and Attractions
The City Museum offers countless opportunities for discovery, engagement, and play. Here are some of the must-see attractions:
MonstroCity: An enormous outdoor playground, MonstroCity features a maze of winding tunnels, suspended walkways, and multi-story slides. Climb into a repurposed airplane fuselage, navigate a labyrinth of wire mesh, or brave the 10-story spiral slide for an adrenaline-pumping adventure.

Enchanted Caves and Shoe Shafts: Venture into the mysterious and enchanting world of the underground caves and shoe shafts, where visitors can explore a network of subterranean passages, caverns, and slides, all adorned with intricate sculptures and mosaics.

World Aquarium: Located within the City Museum, the World Aquarium offers an up-close encounter with various aquatic creatures, from sharks and rays to turtles and exotic fish. Interactive exhibits allow guests to touch and feed some animals while knowledgeable staff provides educational insights into marine life.

Art City: A creative haven for artists and visitors alike, Art City provides a space for hands-on art-making and crafting. With workshops and classes in various mediums, such as pottery, glassblowing, and mosaics, Art City encourages guests to unleash their inner artists and create their masterpieces.
Conclusion
The City Museum is a testament to the power of imagination, creativity, and play. Its ever-evolving array of installations, exhibits, and attractions offers an unforgettable experience for visitors of all ages. Whether crawling through hidden tunnels, admiring the vibrant artistic creations, or unleashing your creativity in Art City, the City Museum is a true St. Louis treasure that promises a day of adventure and exploration.